Pronto Xi 760 offers a fresh array of powerful customer-centric features.
Many of the new capabilities and enhancements are a direct result of extensive consultation with our customers – across a number of industries. We call this practical innovation. The updates in Pronto Xi 760 remove complexity arising from changing legislative demands; transform usability and reveal actionable insights for growth. Learn how the enhanced functionality enables your team to achieve more, with greater ease.
Our measure of success isn't what these changes mean to our business, it's what they mean to yours.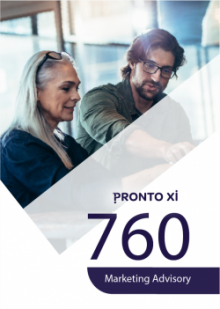 Pronto Xi 760 Marketing Advisory
Hundreds of improvements and additions have been made in Pronto Xi 760 – read more about the highlights