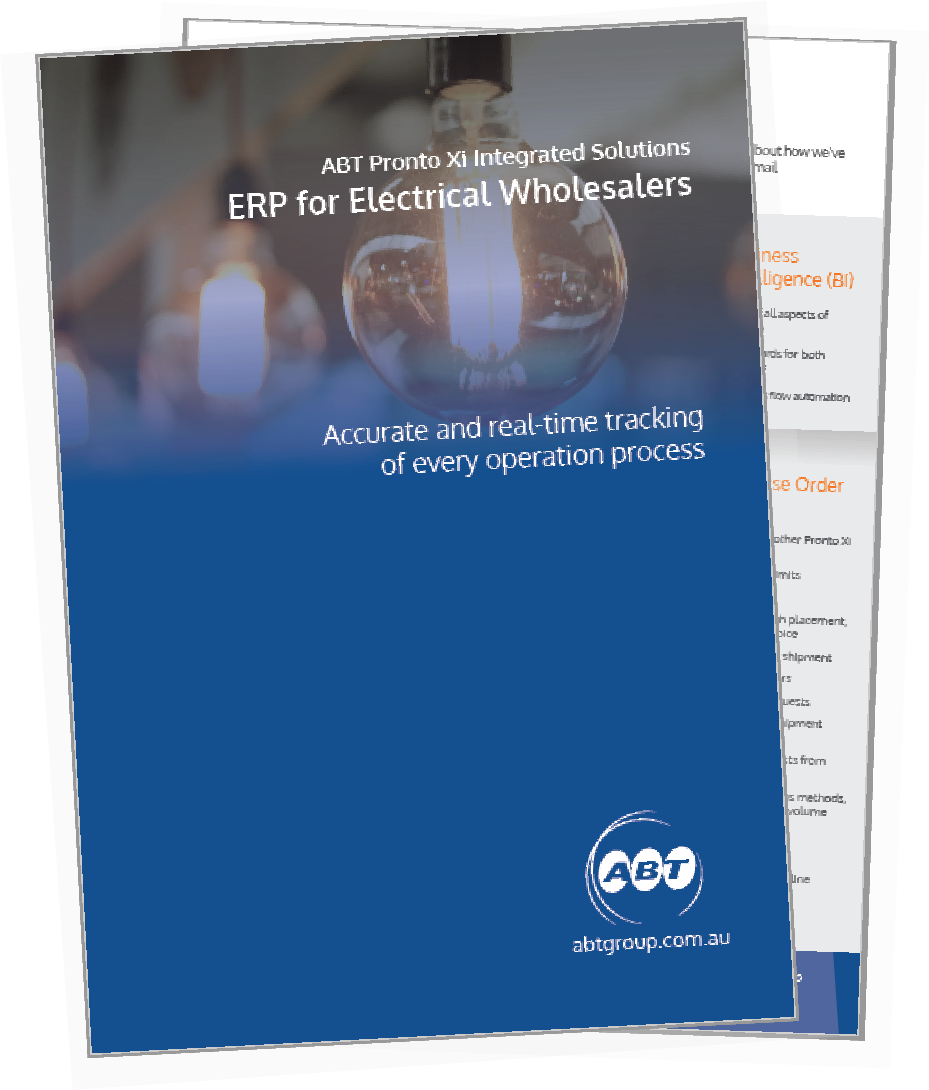 Click to download Brochure.
What's holding you back?
Every business is unique, but we've seen and solved a lot of common "pain points" for our electrical customers.
Do you have any of these?
A business partner without extensive experience with electrical wholesalers
No single system with visibility of all business operations
Key business processes handled by multi applications and add-ons in addition to the main financial package
Numerous Microsoft Excel spreadsheets being used for important business operations
Warehouse operations not completely optimised
Lack of integrated customer and sales management
Service and maintenance external to main financial system
Current systems unable to handle multiple locations
Delivery routes for drives not fully optimised
Challenges for future growth
Complete visibility and accurate reporting across all business operations in all locations
Ability to properly integrate a wide range of supplier catalogs for better customer service and increased sales
Every part of the business managed by one, comprehensive system that's totally suited to the needs of electrical wholesalers
A business system that can be run in-house, hosted or in the cloud and on any platform
Freedom of choice for future web and e-commerce solutions
Knowing your business systems are proven to scale to almost any size
A business partner with decades of experience with leading Australian electrical wholesalers
The heart of your enterprise supply chain:  Pronto Xi
Pronto Xi easily handles all aspects of your sales ordering and automatically updates your stock and inventory levels. Get a clear picture of inventory across all of your business's locations with
real-time tracking of stock levels and movement. Keep a keen eye on the stock coming in and out of your door with the Sales Order and Purchase Order modules. Automatically allocate back-orders and stock replenishment, calculate freight, and track dispatch across multiple countries and currencies, all while having full access to your history. Manage current inventory with full 3D warehouse layouts, serial number and lot tracking, and effortless RF scanning systems.
ABT Group is a specialist in implementing Australian developed Pronto Xi into electrical wholesalers. Some of the industry's best known suppliers of all sizes run their entire day-today financial, warehousing and distribution environments that have been supplied by ABT.
ABT partners with you to provide every aspect training, consulting and local support for your long term success and growth.
Call ABT Group on 02 9878 7111 for an initial chat about how we've helped other growing electrical wholesalers or e-mail [email protected].
ABT implemented a large scale Pronto Xi enterprise system including Financials, POS (Point of Sale), stock, payroll, production, CRM, and eCommerce for Salmon Bros across all their locations.
"The level of ABT's commitment and involvement in the project was outstanding and far exceeded our expectations. The Pronto system implemented by ABT has been a very reliable platform for all our computing requirements, including AR, AP, Inventory, Sales and Finance"

Peter Salmon, Managing Director,
Salmon Bros Electrical.