How can a reliable ERP system be a source of competitive edge?
When considering adopting an ERP software, businesses often want to understand the competitive advantages of the system to the organisation ?
Majority of ERP implementations are embarked upon to increase organisational profitability. Though the phrasing may vary, "increased efficiency," "streamlined processes," "improved integration" and, really, most any other benefit a company might want out of an ERP system all boils down to one key goal: make more money. But what is the best way to make more money? The answer is grow your customer base by trumping your competitors.
So can an organisation leverage its ERP software to do just that?
The response is: Yes.
A reliable ERP solution is the future, while using a legacy system could put you at organisational disadvantages. The ERP software could help your business to run more efficiently, allowing you to be more agile, adaptive, save money and resulting in offering better user experience across your business, products, service and prices than your competitors.
Tailor the ERP systems to suit your business needs and future goals.
ERP software can assist a business reach its full potential by offering solutions that are specifically tailored to your company and what it does. In particular, if you choose a highly adaptive software you can invest in modules and functionalities that fit your business – which is much better than a 'one size fits all' solution.
Tip :Invest and implement the ERP system that's right for the company – not necessarily what the competition is using:
Organisations often believe that if they implement the same ERP software that the leaders in their industry use, they will even out the playing field and somehow increase competitive edge. However, this is not the case. An organisation that follows this line of thinking risks ending up with software that's a poor fit and losing time, money and even market share. Pick a software based on your company's needs and requirements and forget about what the "Jones" are doing.
Improved accuracy promotes greater efficiency
Investing in an ERP solution for your business implies that more processes can be removed with automation and a more elevated amount of precision can be accomplished.
This leads to improved efficiency and revenue savings which can lead to increased profitability, or a competitive edge with savings that business can pass on to internal and external customers in the form of better service or pricing. Initially, the centralisation of all data enables you to run and manage your business better, without the need to depend on such a great amount on papers and spreadsheets. Once the information is stored in a single place in the ERP system, it is easier to identify and tally expenses and offer your clients more accurately when it comes to project completion and delivery dates. Additionally, the ability to automate most of the manual procedures and processes saves time, money and reduces the margin for human error.
Better insights for easier decision making.
A reliable ERP systems provide you with real-time data and reporting means that you consistently have all relevant company information at your fingertips. The full visibility of stock and supplies means you can clearly see what you have and what you need, and therefore, what promises you can make to your customers. The easier access to extremely accurate and reliable data also means that you can react quickly to change and make informed, timely decisions.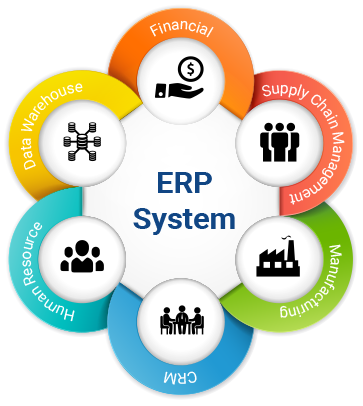 ERP software allows you to run "lean".
Lean manufacturing is a standard practice for many companies – or at least something they are striving to implement. ERP software facilitates lean production. The improved availability and clearer visibility of real-time data helps companies to fulfill the principles of lean: only purchasing what is required when it is required, freeing up cash flow and reducing stock in stores.
ERP solutions are prerequisites for agile manufacturing.
Another growing trend in manufacturing is agile. Agile manufacturing allows companies to react to market changes and customer needs whilst still controlling costs. Research has shown that more and more businesses are seeing agile manufacturing as a prerequisite for competitiveness, and that ERP solutions are essential for implementing agile strategy.
Managed service Vs Self-Managed ERP solution
Your ERP software can be run and maintained by the implementer/ service provider. This means that you don't need to worry about hardware/bandwidth scalability, security, disaster recovery or maintenance. You concentrate on running a successful, competitive business, reaping all the benefits of ERP software without having to worry about your server and database infrastructure.
Conclusion:
The best way to gain competitive advantage from ERP software is simple: pick the right one and implement it the right way.
But many companies don't know how to accomplish either of those tasks, which means they'll never fully achieve the return they want from an ERP system. This is where third-party, independent ERP consulting firms come into play. By guiding organisations through software selection, implementation and organisational change management.
If you would like to learn more about how a fully integrated, scalable and flexible ERP system could help your business reach its full potential, then contact us today on 02 9878 7111 to ask how we could assist in building your competitive edge for your business.